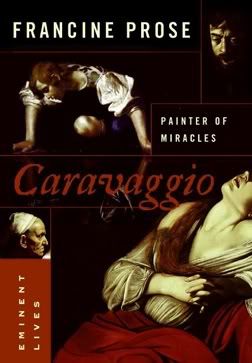 This evening I went to a lecture at the Metropolitan Museum of Art entitled, "Caravaggio: Painter of Miracles". The featured speaker was author Francine Prose who is also the writer of a book which shares the same name as the lecture. This is the information found about Ms. Prose on her website through haper collins.
Francine Prose is the author of fourteen books of fiction, including A Changed Man. Her most recent book is Caravaggio, an account of the life and work of one of the greatest painters of all time. Francine Prose has received numerous grants and awards, including Guggenheim and Fulbright Fellowships, and was a Director's Fellow at the Center for Scholars and Writers at the New York Public Library. She lives in New York City.
I knew that this lecture could be, shall I say, "tricky" but it was in fact a bit worse. Within a timeframe of less then an hour, Ms. Prose rambled about the life and times of Caravaggio. Now I already know much about the life of Caravaggio. I have perused several books on the life of this particular subject, who happens to be one of my favorite painters. Therefore, the information that she gave really didn't "shock" me or make me feel better informed on this painter of shadows. She even used the phrase "lack of irony" to descibe the religious imagery of Caravaggio's work. Now maybe I"m misunderstanding the use of the word "irony" but I feel like Caravaggio was extremely ironic in the sense that he was able to paint who he wanted to paint (including a barage of prostitutes and thieves) and make these people into "holier then thou" icons of Catholicism. If that's not ironic, I don't know what is.
Here is a drawing I did during the lecture. What can I say…I was bored!
Also note my shock of her showing several slides. BACKWARDS.